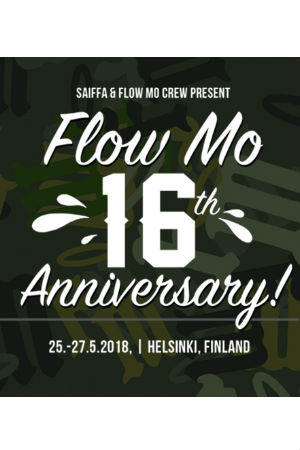 Flow Mo 16th Year Anniversary
Tapahtuman ajankohta
Friday, 25. May 2018, 19:00

to

Sunday, 27. May 2018, 20:00
Urho Kekkosen katu 4-6, 00100 Helsinki, Finland
https://www.facebook.com/events/1648080728608021/
http://www.flowmoanniversary.com
FLOW MO 16TH YEAR ANNIVERSARY WEEKEND!
• MAY 25th - 27th 2018 •
A weekend full of Hip Hop culture that will gather friends and supporters of Flow Mo from all over the world to celebrate, dance, cypher, battle, socialize and build in Helsinki Finland!
Invited guests:
Dj Skeme Richards (Rock Steady Crew / Sesion 31 USA)
Dj Rob Life (Vinyl Veterans UK)
Dj F-Twice (RUS)
Dj Smirnoff (RUS)
Dj Well B (RUS)
Poe One (Style Elements USA)
The OFFICIAL weekend schedule:
FRIDAY MAY 25th:
• The Official FM15 Pre Party
- Location: Väinö Kallio, Hämeentie 11, Helsinki
19-22, cyphers and drinks
SATURDAY MAY 26th:
MAIN EVENT
• The Official Flow Mo 16th Year Anniversary Jam | The NHB™ 1VS1 Bboy/Bgirl world finals.
(No Holdin Back battle concept), battles and party
LOCATION: TAVASTIA-klubi, Urho Kekkosen katu 4-6
ALL AGES
• FLOW MO 16th YEAR ANNIVERSARY AFTER PARTY @ Tavastia
Live concert: Ernie Hawks & The Soul Investigators
SUNDAY MAY 27th:
Hip Hop Brunch at Cafe Pequeño Kamppi
Workshops at Saiffa - Flow Mo Dance School
"Lifetime Of Soul" - Flow Mo
Organized by
Saiffa - Flow Mo Dance School
In collaboration with:
All Day Agency
Supported by:
Finnish Cultural Foundation - Suomen Kulttuurirahasto
Suomen Bboy-liitto / Finnish Bboy Association
#NHB
#FM16
_______________________________________________
"NO HOLDIN' BACK"
No Holdin' Back - or as we say the NHB is a new bboy/bgirl battle consept developed by Wartecs of Flow Mo.
"NHB™" is a 1VS1 competition where all the dancers are put on the same line from the first round to the finals where they have to give 100% in each solo they execute. No one can save energy and moves for later and take it easy at any moment of the competition. From cypher qualifications the 16 best dancers will go through to the battles. For bboys/bgirls who wanna test their limits, this is a new kind of consept that will make you do your very best in each and every round.
For all the battles there will be:
- No round limit
- No time limit
The battles will be judged by 3 judges whom each hold a white flag that they will raise clearly in the air as soon as they individually know who the winner is of each battle. This can be straight after the first round, during some round or even after 10 rounds or more.
When all 3 judges know who they will vote for - the battle is over even if it's in the middle of someones solo. After the battle the host will count the "1,2,3!" and judges will point to the winner with their flags. With this concept there will be no tie-breaker rounds ever since all the judges already know which dancer they wanna vote as the winner of each battle. Battles will proceed with the same format until the winner is announced.
© "NHB™" (No Holdin Back) battle consept all rights reserved by Saiffa / Flow Mo Dance School.